The Corridor
For five days Sarah Vanagt and cinematographer Annemarie Lean-Vercoe followed a donkey during its weekly visits to old people in nursing homes in England. From home to home, from room to room. Time and again the donkey was welcomed with open arms, with songs, gentle strokes, childhood stories, poems, and laughter. It was only when the donkey entered the room of Norbert, a man who had lost his ability to speak, that an altogether different encounter took place. Even though Vanagt initially followed the donkey's steps in search of reminiscences brought about by the animal's mute presence, she came home with an altogether different film. While editing, the film became shorter and shorter, as if the words that had accompanied the donkey's visits became a distraction. What is left is perhaps a bas-relief disguised as a painting, disguised as a film.
Film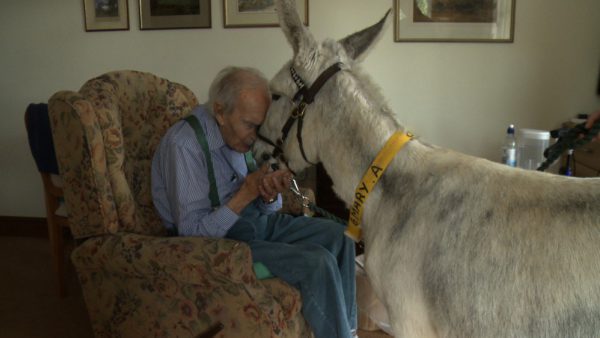 The Corridor (7')
Credits
7' / video / 16:9 / 2010
English spoken (opening poem), with English subtitles
Camera: Annemarie Lean-Vercoe
Editing: Effi Weiss / Amir Borenstein
Sound mix: Maxime Coton
Produced by Balthasar
Coproduced by the Faculty of Fine Arts, University College Ghent, Argos - Centre for Art and Media.
The research for this film is financially supported by the Research Fund of University College Ghent
This films is shown both as a single screen film and as a looped video installation.
Distribution: www.argosarts.org